Sep. 25, 2021 - Sep. 26, 2021
Fly Together Weekend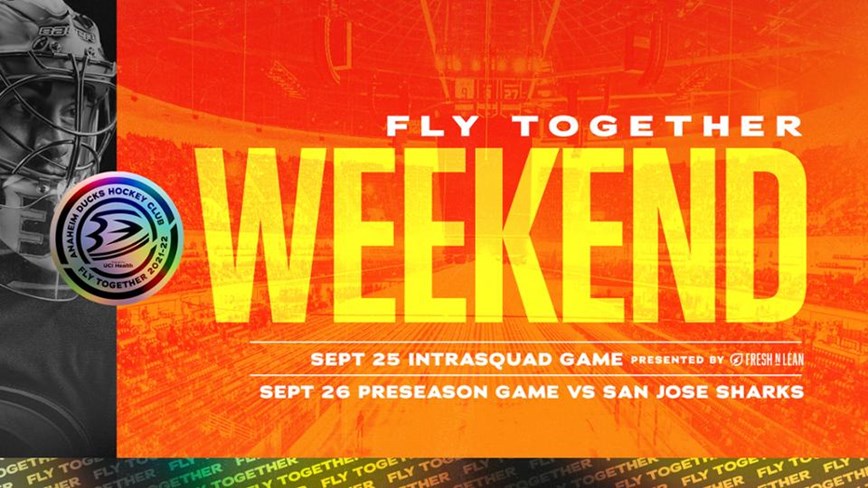 Don't miss this chance to #FlyTogether and launch the 2021-22 season! We're hosting the Ducks Fly Together Weekend on Sept. 25-26 with festivities at both Great Park Ice and Honda Center.
The Ducks will host a unique fan event at 2021 Training Camp presented by FRESH N' LEAN, including the team's first full team intrasquad scrimmage on Saturday, Sept. 25 at Great Park Ice, the team's 280,000-square foot, state-of-the-art facility. Guests will have the opportunity to win prizes and engage in interactive games and experiences at Great Park Ice. As part of the celebration Ducks General Manager Bob Murray will host a hot stove after the scrimmage as well.
Saturday's scrimmage and all activities at Great Park Ice will be open to the public, with a suggested $5 donation to the Anaheim Ducks Foundation for fans attending. Visit AnaheimDucks.com/FlyTogetherWeekend to make your donation and learn about additional ways you will be able to support the Ducks Foundation: a sale of player autographed Wild Wing Breakout mini goalie sticks, an auction of player autographed practice jerseys and an opportunity drawing to win great Ducks prizes. Due to a limited seating capacity fans are highly encouraged to make their donation prior to the Fly Together Weekend.
The weekend will culminate with the first preseason game of the season when the San Jose Sharks come to Honda Center on Sunday, Sept. 26 (5:00 p.m. PT). As a special "thank you" to Orange Alliance Members, the game will be complimentary. The team will also wear special Orange Alliance jerseys during warm ups. For all other fans, tickets are on sale now starting at $28.
For more, click here