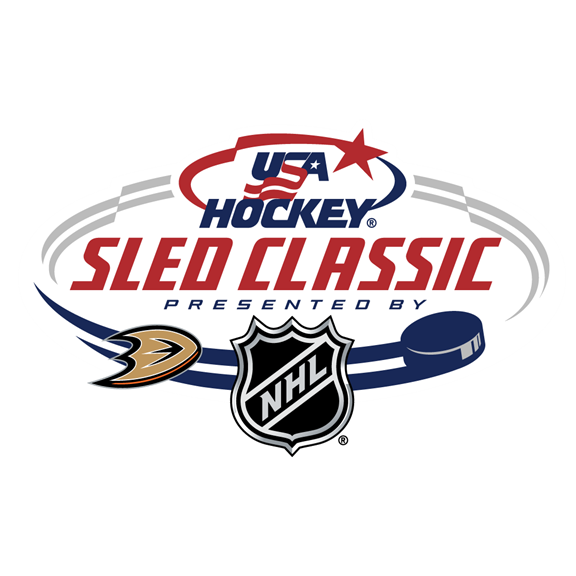 Ducks to Host 2022 NHL Sled Hockey Classic at Great Park Ice
Four-day tournament presented by NHL will be hosted at Great Park Ice & Fivepoint Arena and features sled hockey teams across the United States and Canada
The 12th annual USA Hockey Sled Hockey Classic, presented by the NHL, took place November 17-20 at Great Park Ice & FivePoint Arena in Irvine, California. The four-day event, featuring sled hockey teams associated with NHL clubs, was hosted by the Anaheim Ducks.
This year's event included teams representing 16 NHL clubs, including the Anaheim Ducks, Boston Bruins, Calgary Flames, Carolina Hurricanes, Chicago Blackhawks, Colorado Avalanche, Edmonton Oilers, Los Angeles Kings, Minnesota Wild, Nashville Predators, Philadelphia Flyers, Pittsburgh Penguins, Seattle Kraken, Tampa Bay Lightning, Vegas Golden Knights, and Washington Capitals. Each team represented their associated NHL club by wearing official NHL licensed jerseys with local club marks and logos.
Fans can find a full recap of the tournament on the USA Hockey Sled Classic homepage.
Tournament Photo Gallery
Tier 1
Boston Bruins - 2022 CHAMPIONS
Colorado Avalanche
Nashville Predators
Chicago Blackhawks
Tier 2
Pittsburgh Penguins - 2022 CHAMPIONS
Calgary Flames
Philadelphia Flyers
Minnesota Wild
Edmonton Oilers
Tier 3
Boston Bruins - 2022 CHAMPIONS
Anaheim Ducks - Host
Las Vegas Golden Knights
Nashville Predators
Tier 4
Colorado Avalanche - 2022 CHAMPIONS
Washington Capitals
Carolina Hurricanes
Tampa Bay Lightning
Tier 5
Chicago Blackhawks - 2022 CHAMPIONS
Colorado Avalanche
Pittsburgh Penguins
Seattle Kraken
Los Angeles Kings
Edmonton Oilers
Anaheim Ducks Sled Hockey
Ducks to Celebrate Sled Hockey in Lead-Up to Sled Classic
On Saturday, November 12, Sarah Bettencourt, a member of the U.S. Women's Development Sled Hockey Team and captain of the Ducks Sled Hockey Team, alongside former U.S. Men's Development Sled Hockey Team member Aaron Loy, will drop the ceremonial first puck prior to the start of the Anaheim Ducks-Chicago Blackhawks game at Honda Center.
Then on Monday, November 14, the San Diego Ducks Sled Hockey team will join the Anaheim Ducks for a joint practice at Great Park Ice & FivePoint Arena in Irvine, CA. The practice will begin at 10:30 a.m. as Bettencourt and her teammates will demonstrate the basics of sled hockey to Ducks players including John Gibson, Troy Terry and Trevor Zegras. 
San Diego Ducks Sled Hockey Team join NHL Ducks for practice ahead of Sled Hockey Classic
Monday afternoon at Great Park Ice in Irvine, the San Diego Ducks Sled Hockey Team practiced with the NHL Ducks ahead of the 2022 USA Hockey Sled Classic beginning this Thursday Nov. 17 at Great Park Ice. On hand were 15 sled hockey players between ages 6 - 67 with various disabilities. Among those in attendance was Sarah Bettencourt, who founded the Ducks Sled Hockey team after being forced to retire as a Captain for the U.S. Marines due to permanent neurological damage she endured during service.
The former Marines Captain and Ducks Head Coach Dallas Eakins led the practice drills, which included Ducks defenseman Cam Fowler learning the art of sled hockey from Bettencourt.